Digital transformation has already been adopted by many banks and financial institutions around the world. This can be seen in areas such as mobile banking, online banking, and artificial intelligence (AI). These areas are the focus of governments' digital development agenda and are vital for banks to ensure they remain competitive in a fast-moving world. I believe government facilities like banks and more should use digital transformation. It can be a great opportunity to enhance customer experience, increase efficiency and improve operational effectiveness.
Now, the question is how to transform their organization into a data-driven enterprise and how to build an end-to-end digital platform. Thus, easily analyzing customer data in real-time. Another question is how to transform legacy systems into modern platforms that can provide customers with much-needed transparency. 
The good news for government organizations is that they now have the opportunity to deliver digital transformation services at scale through partnerships with other service providers. They can even use cloud technology to deliver products and services quickly and cost-effectively.
Besides, there are plenty of solutions available that can help them navigate this complex journey. Let's talk about these.
Ways Government Can Enhance the Citizen Experience
Digitize Customer Appointment Experience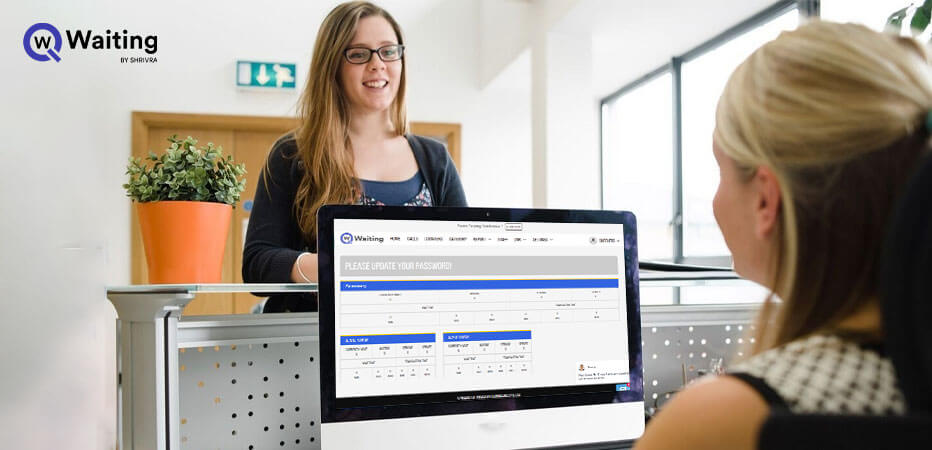 Long and unknown wait times are because of a lack of transparency. It further results in citizen frustration visiting government establishments. Here, one best ways to overcome such inconvenience is to streamline the appointment scheduling process. Solutions like Qwaiting automates the complete appointment booking process. Thus, reducing the queuing hassles. 
It is a cloud-based solution that enables citizens to book their visits via their mobile devices. As a result, they get the freedom to manage their time their way. They can book their visit as per their preference of service type, time, and date. Moreover, they can keep track of queue progress, exact wait times, and representatives who will be serving them. The government employees will be already aware of the services booked. Hence, staying available for assistance and lowering queuing wait times. In addition, it helps staff provide personalized experiences to the citizens.
Ensure Simplified Communication
To improve the citizen experience, communication is essential. When in contact with a government office, citizens frequently feel misinformed. They are unsure of the appointment's duration, the people they must speak with, and what assistance they can expect.
When an appointment is made via an appointment booking solution, the system sends an email or SMS text to confirm the services and follow the steps. Using the same digital channels, it also offers automatic reminders, which lowers appointment delays or no-shows.
Automate Manual Operations
The traditional software solutions in government can transform the experience and never offloaded the employee's workload. This is the reason, automated solutions like Qwaiting are in existence to eliminate the need for manual operations. For instance, the procedure of preparing documentation and hosting meetings earlier needed manual paperwork. Even the review and approval procedure took days. 
With the use of digital technology, the procedure can be automated and reduced from taking weeks to just a few hours. Platforms for automating workflows allow for end-to-end citizen services automation, including electronic filing, tax administration, etc. Qwaiting when installed in the establishment, can aid in simplifying service delivery to residents regardless of time, location, or medium. Thus, guaranteeing citizens constant access to services and data and boosting citizen happiness.
Eliminate Queuing Hassles
Customer dissatisfaction is greatly influenced by the length of a line and the length of a wait. However, how citizens feel that time is what matters most because they believe time moves faster when they are engaged with other important tasks.
Here, integrating a virtual queuing solution could be the best practice to follow. It will enable the citizens to remotely join the virtual queue. They can wait at their leisure, visiting the premises only when it's their turn. Furthermore, they can check the real-time queue project and get notified via SMS about the appointment. This will save them from standing in physical queues for long and utilize them doing other vital chores. 
Streamline Data Collection and Unify Data
Mostly, the employees in government offices have to manually enter citizen information each time they visit the premises. Of course, handling paperwork is confusing and tiresome. Even not having the right tools in place triggers frustration when doing tasks manually and in repetition. 
Consumers expect everything quickly and at their leisure. Here, the filling of lengthy forms and conventional information-gathering procedures only impacts their experience with the facility. Hence, having a digital solution like Qwaiting in place comes as an efficient solution. 
It helps gather customer data and feedback via online forms. Thus, saving the time of both the citizens and employees. Even such a digital solution comprises the features like multilingual support, security, authentication, etc. All of this, assures the safety of citizen data, and the use of data whenever delivering personalized experiences is the need. 
Conclusion
The government sector is facing a digital transformation. This is the result of the growing demand for financial services, the introduction of new products and services, and the need to evolve their business models. It also has to do with their competitors' digital transformations.
Digital transformation will enable government organizations: 
To increase productivity through enhanced efficiency.

To achieve greater agility by automating processes.

To improve customer experience through seamless interactions with customers.

To deliver better-quality services.
Besides, I would recommend deploying a software solution such as Qwaiting in any government organization. It can assist in boosting employee productivity in any facility. It provides detailed insights, enhances citizen flow, and reduces operational costs. Also, it lowers the wait times. Thus, resulting in happy customers.