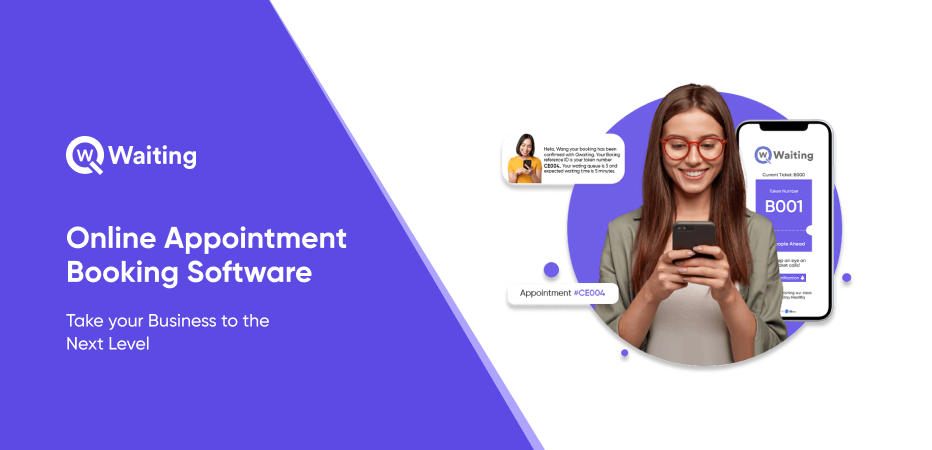 Businesses that rely on in-person appointment scheduling are lagging behind and facing various problems. However, they can stay ahead by integrating technological advancements that directly impact customer loyalty & staff efficiency. With an online appointment booking solutions, you can automate your business operations, reduce no-shows plus maximize staff productivity. Significantly, this will uplift your brand's image & take your business to greater heights, ensuring a positive and seamless customer experience.
Let's explore the endless opportunities that help your business to stay ahead through the implementation of online appointment booking solutions.
Obstacles Faced By Clients When Scheduling Appointments Through In-Person Visits
The following are the challenges that hinder the efficiency & convenience of booking appointments. 
Time-consuming Process
Physically visiting premises to book an appointment can be a time-consuming & hectic operation, especially if the business premises are far from the customer's place. Eventually, this inconvenience leads to higher frustration among customers from making appointments. They may have to wait for long hours to avail of the products & services, which can further heighten their dissatisfaction level.
Geographical Constraints
It's challenging for people living in remote areas, especially when they have to visit physical locations & stand in crowded lines to book an appointment. After getting the appointment slip, they must wait for their turn, which could be inconvenient & time-consuming. Moreover, limited transportation modes in those areas might make it difficult for people to travel, especially during late hours. As a result, this leads to dissatisfaction among the people in these rural places. 
Limited Staff Availability
Businesses face significant challenges when they have short working hours, which discourage customers from visiting the business premises at their preferred times. There can be a lot of reasons for restricted hours, such as staffing limitations or the type of business.
For example, some businesses may operate only during specific months, which means customers have a shorter time to use their services. Consequently, this makes it difficult for customers to schedule their visits accordingly, resulting in missed opportunities & lower satisfaction.
Lack Of Flexibility
If any customer wants to reschedule the appointment, they need to physically visit the premises & require direct interaction with employees, which limits flexibility. Also, it can be inconvenient & challenging for persons who have a busy schedule or face unexpected emergencies like natural disasters. 
Communication Barriers
Sometimes, customers may face difficulties in effectively communicating their appointment needs, especially if there is a language barrier between staff members & customers. Additionally, there may be instances when staff are occupied attending to other customers, which makes it difficult for them to focus on your preferences in real-time. Ultimately, this lead to customer frustration and dissatisfaction.
Health And Safety Concerns
After the pandemic, customers might feel hesitant to visit physical premises to book appointments due to valid concerns about their health & safety. The fear of spreading the virus in crowded places could lead to an increased of unwillingness to make in-person appointments & prefer alternative methods.
Thus, it's worth acknowledging that some businesses have likely adapted to these obstacles by offering robust appointment booking systems & enhancing their customer experience. Let's read on further to get deeper insights.
Benefits Of All-in-one Cloud-based Appointment Booking System
In this segment, we'll explore the key advantages of implementing cloud-based appointment booking solutions in any business premises.
Streamlined Booking Process
Online appointment booking solutions allow your customers to schedule appointments at their convenience, anytime, and from any region. Significantly, this eliminates the need for customers to physically visit your business or call to book a slot, which saves staff and customers valuable time.
Reduce Wait Times
With a feature-rich queue management system, customers can book appointments in advance, which allows you to allocate time slots efficiently. Also, it sends real-time updates and notifications to customers when their turn has arrived. As a result, it helps to reduce long queues and manage customer wait times thus improving customer satisfaction.
Resource Optimization
The software helps you optimize your resources by efficiently distributing appointments among your staff. Significantly, it prevents overbooking or underutilization of resources, which leads to a more balanced workload for your team.
Data Collection And Analysis
The appointment scheduling software has an in-built ability to collect and analyze the data for all aspects of the business. It might be related to customer behavior, staff performance, appointment trends, financial status, etc.  Significantly, by analyzing this information, you can make sound decisions for better improvement in business operations. 
Customization And Branding
Many appointment booking solutions offer customization options that allow you to tailor the software to match your brand's identity. Eventually, this creates a consistent customer experience and builds a strong brand image.
Qwaiting- Seamless Appointment Booking In Just A Few Seconds
Qwaiting is a software-based solution that is useful to optimize & streamline the flow of customers and their waiting experiences. With the help of this system, customers can easily book and manage their appointments like a pro at their convenience with just a few clicks without even standing in the queue line. Significantly, this improves customer satisfaction, streamlines operations, and boosts revenue for businesses in various industries where waiting times are common. For example, retail, healthcare, banks, government offices, entertainment venues, and more.
Qwaiting Highlights- Why Would You Consider It Your Top Choice?
The following is the list of advanced features of the all-inclusive Qwaiting solution.
Multilingual support.

24/7 customer appointment booking and scheduling.

Assessable from multiple locations.

Great reporting and analytical capabilities.

Complete data security and privacy.

Calendar integration.

Integration with website and point of sale.

Automated text messages and email reminders.

Two mobile applications: Qwaiting-customer & Qwaiting-staff. 
Therefore, by deploying this ultimate feature-rich Qwaiting solution, you can take your business to greater heights of success and growth. 
The Bottom Line
In conclusion, implementing robust online appointment booking software can give your business a competitive edge by streamlining its scheduling process and enhancing customer satisfaction. Additionally, it optimizes resource allocation and frees up valuable time & resources that can be useful in improving other aspects of your business.