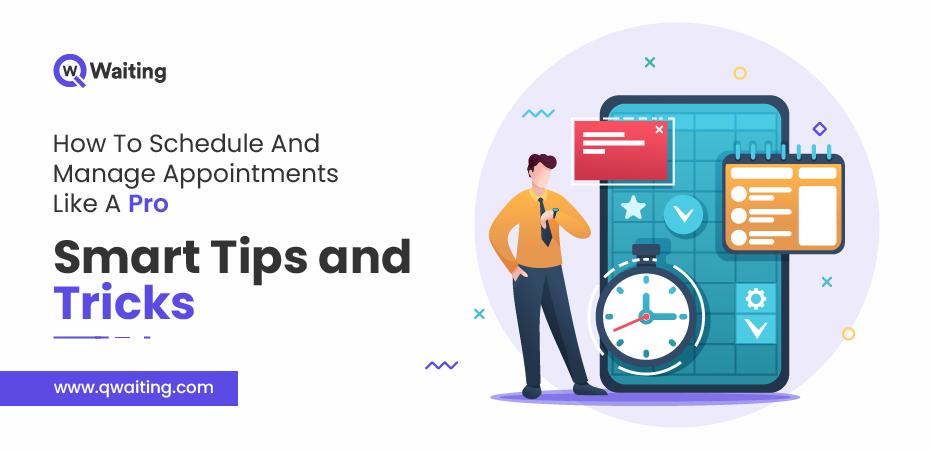 Scheduling and managing appointments can be a challenging task, especially when you have multiple appointments to coordinate. However, with the right and accurate approach, you can handle your appointments like a pro. The golden tip for efficient management is to deploy an appointment booking solution into your premises. With the help of the software, customers can seamlessly book their appointments online without having to stand in a queue. This helps businesses manage their customers' appointments efficiently.
Efficiently managing your appointments not only helps you stay organized but also ensures better utilization of your precious time. Nowadays, where time is money, being able to handle appointments efficiently can be a great asset. So, whether you're a busy professional & just looking to stay organized, read on to discover tricks that I'll share with you for better appointment management. Get ready to control your schedule & maximize your time like never before!
Expert Advice On Scheduling And Managing Service Appointments
Managing service appointments can be a cumbersome and time-consuming task. But, you can optimize and streamline your business and customer experience with some helpful tips:
Offer Self-Booking To Your Customers
The most effective way to streamline the appointment booking solution allow your customers to book service appointments themselves anytime. Providing a self-booking option through your website or app helps your customers find available appointment times that work for them. Eventually, it helps to manage customer queues and reduce the workload on your staff so they can focus on some other crucial functions.
Send Appointment Reminders
Sending appointment reminders is an essential step in managing service appointments. It helps to reduce the number of no-shows or late cancellations and ensures that your customers are prepared and ready for their appointments. To send effective appointment reminders, consider using qwaiting software. You can customize the reminders to include specific information such as the appointment date, time, location, and any necessary preparation instructions. By doing so, you can uplift customer experience and grow your business.
Create A Customer Waiting List
If your schedule is fully booked, creating a waiting list for customers who are interested in booking appointments can be helpful. The waiting list can assist you in filling any cancellations or last-minute openings that may arise in the future. This can help mitigate the effects of unforeseen circumstances on your work process & enable you to fill any vacant slots that become available.
Utilize Scheduling Software
The easiest & most effective way to manage your scheduled appointments is to implement an online scheduling tool. Integrating robust Qwaiting software helps you automate the scheduling process, manage appointments, and track customer data more efficiently. Customers can easily schedule their appointment from their own place without having to stand in long queue lines. Also, staff doesn't need to manage appointments manually, which eliminates the chances of human errors such as overbooking and double booking.
Integrate Third-party Solutions
Integrating third-party solutions with your appointment tool, such as payment processing systems, can streamline the scheduling and payment process. Customers can make payments during the online appointment booking process, so they don't have to wait in a queue for service payment. However, it leads to a positive overall customer experience.
Leverage Data And Analytics
Collecting and analyzing data on your appointment scheduling process can help you identify areas for improvement and optimize your scheduling strategies accordingly. You can install Qwaiting software to help you identify trends and patterns in customer behavior through analytical reports. These reports allow you to make more informed decisions.
Prioritize Appointments
Prioritizing service appointments is the best way to schedule and manage bookings efficiently. By prioritizing appointments based on urgency or importance, you can better manage your schedule and reduce waiting time for customers. This ensures that your most critical customers are served in a timely manner.
Set Clear Appointment Policies & Procedures
Having clear appointment policies in place helps you to avoid miscommunications with your customers. Your policies should include information on how appointments are scheduled, how cancellations & rescheduling are handled, & what happens in case of no-shows & late arrivals. Also, It's important to communicate your policies clearly to your customers, so they know what to expect or what not to.
Maintain Accurate Records
Maintaining accurate records of your service appointments helps you to keep track of your schedule. One way to do this is by using a cloud-based online appointment booking software to record appointment details. For instance- the date and time, customer name, contact information, and any other special requirements. Accurate records help you to identify patterns in your scheduling and make adjustments accordingly.
Things To Keep-In-Mind While Selecting The Best Appointment Booking & Scheduling Software
In this segment, I'll provide some important factors to consider, while choosing the most appropriate scheduling solution.
Budget
The first thing to consider while selecting an appointment booking solution is your budget. You must evaluate the cost of the software in relation to its features and determine if it fits within your budget.
Features
The second thing to keep in mind is the features that the software offers. You have to ensure that the software has all the necessary functionalities required for the effective management of your appointments and schedule. Some of the key features to look for include appointment booking, calendar management, reminders, and reporting.
User-friendly Interface
The software should have easy to use interface that will help you and your clients save time and avoid frustration.
User Reviews
It's important to check user ratings and feedback online before selecting software. This will help you give insight into the software's performance in practical scenarios.
Integration
Consider whether the software can integrate with other tools that you use for your business. For example- email marketing software, CRM, and accounting software.
Security & Privacy
Security and privacy are crucial considerations when selecting appointment booking and scheduling software. The software must have advanced security features that ensure your information remains safe and protected.
Mobile Accessibility
The software should be easily accessible from all mobile devices. This will allow you to manage appointments at your convenience and helps to keep track of your schedule from anywhere. Furthermore, clients can quickly book, reschedule, or cancel appointments using their mobile devices. Therefore, it is crucial to select software that provides a mobile app or a mobile-friendly website to ensure easy accessibility.
Concluding Remarks
To conclude, by implementing these expert tips & strategies, you can streamline your appointment scheduling process, improve customer satisfaction, & boost overall business productivity. With effective planning & organization, you can ensure all your appointments run smoothly and you never miss an important appointment again.